Bucks Sports Barn is excited to present
FOUR themed camp options for Summer 2023.
Choose From:
Creative Circus Camp
American Ninja Warriors Camp
Aragon and Outback's Magic Camp
Arts Camp
Your child's ultimate summer adventure awaits!
Details
Ages: 5-12 (6-12 for Magic Camp)
Sessions: 8 individual weeks running May 29 – July 28 (no camp July 3)
Monday – Friday 9am – 4pm
Price: $425 per week
Early Drop off: 8 AM for $25
Late Pick: until 6pm $10 per hour
Specials: Sign up for 3 or more weeks and receive 10% off! Multi-sibling discount at $20 off each week per each sibling
Location:
Bucks Sport Barn
2303-B Peachtree Rd, Atlanta, GA 30309

Read on to learn more about each camp!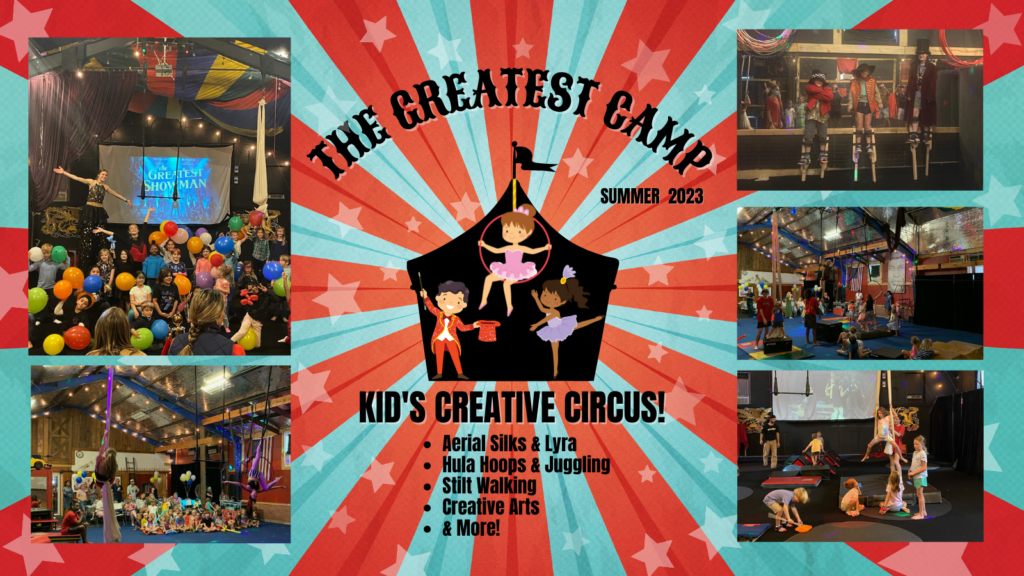 Welcome to The Greatest Camp- Creative Circus!
Each week, the campers will explore a variety of circus skills with training from professional circus performers in the ultimate fun space. Skills include:
Aerial Lyra, Silks, & Trapeze, 
Hula Hooping
Juggling, 
Stilt Walking
Balance Beam 
Spinning plates 
Circus-Style Dance
Acrobatics 
Building strength in the American ninja warrior set
Balloon animals
Face painting 
Creative Crafts
The kids have fun with new friends, learn cool tricks, and make their own act. They will also make colorful crafts and costume pieces. Each week is packed with creativity to the max! Let your kid's inner performer shine.
The more camp weeks that your kid completes, the more skills she/he can take into their life, building confidence and more happiness. Just like no two performances are ever the same, no two weeks are the same at The Greatest Camp.

Meet The Greatest Camp Director, Miss Molly
Miss Molly is a circus performer specializing in epic hula hooping, stilt walking, and fire performance. She performs across the country, with a home base in Atlanta, GA and captivates the crowd with her upbeat, engaging energy & family-friendly shows.
Miss Molly has overcome shyness and lack of confidence through her hula hoop practice. Motivated to bring more confidence & joy into the world, she has taken her 10 years of experience with the hula hoop and other circus skills and developed programs, like The Greatest Camp, tailored to kids.

____________________________________________
American Ninja Warrior Camp
For the kids who love to go-go-go! American Ninja Warrior Camp includes:
American Ninja Warrior Certified Course
Nerf gun wars and water balloons 
Drones
Balance, Agility & Strength training
Mini Basketball, Dodgeball, Beach Ball, Volleyball, Badminton, Kickball & Archery
Creative Crafts
Big Screen Movies & S'more

____________________________________________
Aragorn & Outback's MAGIC CAMP!
After 20 years of Camps we are Pleased to bring "Magic Camp" to Buck's Sport Barn.
This camp is for 6 year old's to 11. It teaches the following: Intro & History of Magic Tricks thru the Ages
7 or 10 Types of Tricks (whoever you believe) Magic Tricks:
● Gimmicks – Includes "Deluxe Magic Kit"
● Skills – Includes "Ultimate Magic Kit"
● Rope Magic – Supplies Included
● Coin Magic – Have them bring a 25 cent piece
● Card Magic – Included (Various Forces)
● Presentation
● Character Development
● Eye Contact
● Sight Lines
● Public Speaking
● Designing a Routine
● Performing Said Routine's

ALL supplies are included with the Camp. Now we learned many years ago that the attention span for learning is about 25 minutes. So what we do is divide them into teams for the week and we have "Aragorn's Crazy Olympics" which RUNS them Ragged for about 10/15 minutes THEN back to the MAGIC. The teams get points and the winning team at end of week gets something special.
And at the End of the Week they take EVERYTHING Home!
Yours,
Aragorn & Outback

____________________________________________
For the kids who love to create! Arts and Crafts Camp includes:
Pottery
Painting
Drawing –
Collage making
Customizing T-shirts
Tye-dye
Sculpture
Mixed Media Art
Mosaic
We will also have big screen movies at the camp and inside/outside games for the kids to run around and play.